Quick and easy access to searchable orthopedic specialty topics on demand (member log in required)
Read about the latest research in orthopedics" and link the same as what's there now.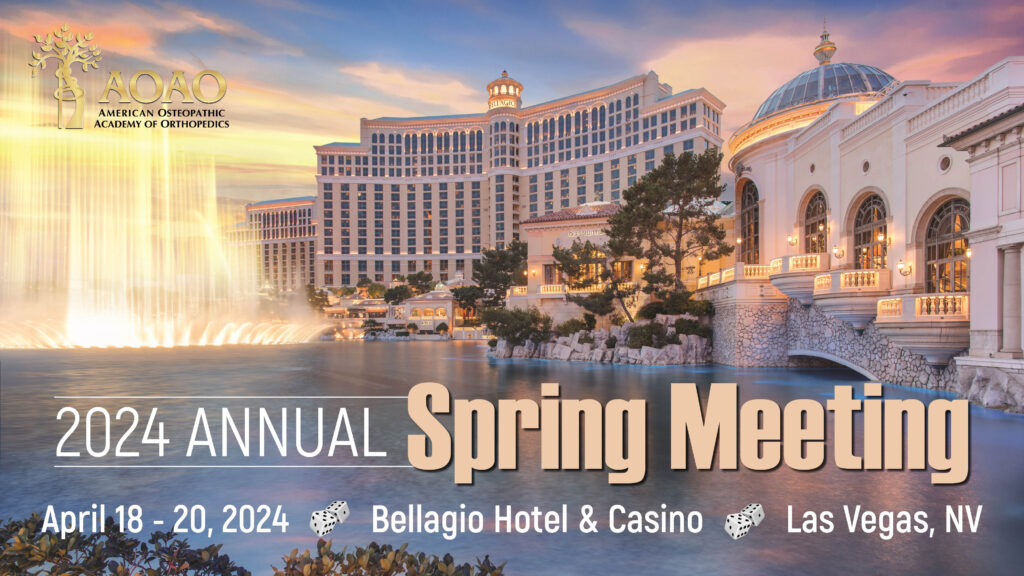 2024 Annual Spring Meeting | April 18-20, 2024
Bellagio Hotel and Casino | Las Vegas, NV
2023 Annual Fall Meeting | October 5-7, 2023
The Broadmoor, Colorado Springs, CO
AOAO Specialty Sections are composed of members of the American Osteopathic Academy of Orthopedics who share a common professional purpose in furthering a sub-specialty interest and knowledge within orthopedic surgery. AOAO Members are encouraged to become involved in their specialty by joining a section.
Sponsorship Opportunities

The AOAO has multiple opportunities for your company to engage with AOAO members and meeting attendees throughout the year. We invite companies with orthopedic products, services, and technology to participate.
The AOAO is offering a scholarship program for AOAO resident members who take the Part I Written Exam through the American Osteopathic Board of Orthopedic Surgery (AOBOS). The AOAO will reimburse $500 to each resident who has registered and paid for this exam.
The Student AOAO group began in 2006 and stems from the vision of a student run organization under the American Osteopathic Academy of Orthopedics (AOAO, Academy). The field of orthopedics is a specialty that is growing in importance and popularity.
The Academy's e-newsletter is published three times annually.

Job postings run for a period of 180 days and are free for AOAO members.